Did You Know – What Your Jeans Pockets Were For?
The very first blue jeans had four pockets, but there as only one in back. In the front or on the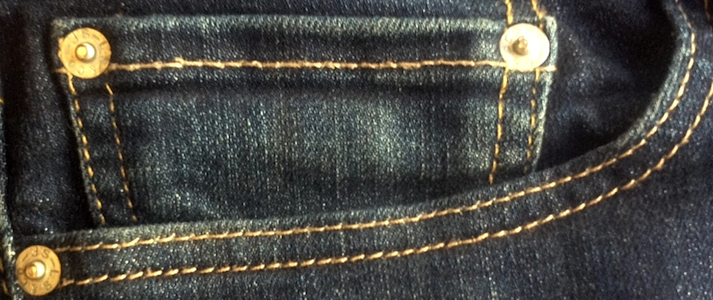 side, there were two more pockets and in addition, one of them held another, smaller pocket. Today that pouch is generally your fifth pocket, and it's usefulness has changed dramatically from its oorignal intent.
According to legendary jeans manufacturer Levi Strauss, the pocket originally included as protection for pocket watches. This small denim pocket made its appearance in 1902, and has gotten progressively smaller since then due to the demise of use of what it was initially designed for.  It is now referred to as a coin pocket. This extra pouch has served many functions, according to the company, evidenced by its many titles: frontier pocket, condom pocket, coin pocket, match pocket and ticket pocket, to name a few.
The pocket appears on the oldest pair of jeans in the Levi's archives, which date to about 1879, Levi's historian Tracey Panek.
But at the turn of the 20th century, pocket watches fell out of style. As a result, jeans were refreshed in 1901 with  the addition of a second back pocket, and the watch pocket got downsized from about 3.5" to 3". The watch pocket was renamed the "coin pocket."
Today that pocket serves many more modern uses. Wearers report using it to carry:
cash
dental floss
pocket knife
gum or tic-tacs
cosmetics
band-aids
tissues
lighter
a key
memory stick
lip balm
There are even tools that have been created specifically for this vestigial pocket, such as those pictured below.
The more you learn about your jeans, the more there is to love about them.
______________________________________________________
WorkHardDressRight.com Has Work Apparel for Virtually Any Job.
WorkHardDressRight.com is your one-stop shop for durable, professional grade Work Apparel at the best prices. From hospital and nurse clothing, to chefware and other indoor and outdoor work wear, we ca even get  workwear overalls for you) we represent the best and most well-known brands.
Employees across the country rely on WorkHardDressRight.com to dress in comfort, fashion and style, and employers trust us to outfit their most valuable resource with great looking work uniforms that put the best face on a business.
Work Hard, Dress Right, Shop Smart